LOWER your cost to acquire new customers
INCREASE the lifetime value of each customer
Getting your business started with Yokalize can be this easy: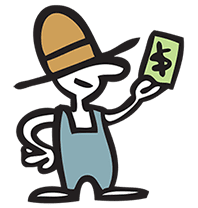 1. Set up a rewards offer
Sign-up is simple and you can instantly start creating, deploying and managing mobile loyalty Yo Points, offers and coupons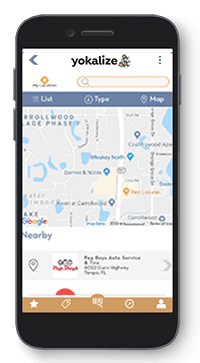 2. Ask customers to download the app
The Yokalize mobile consumer app, available on iOS and Android, is a great way to reconnect with your regulars and extend offers to any registered customer in your area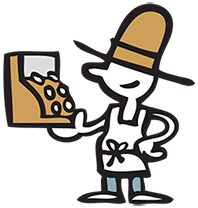 3. Watch loyalty and revenue grow.
Use Beacons to welcome regulars. Let new customers easily find you with Geo-fencing technology, and explore the marketing power built right into your Yokalize business app.
LEARN MORE BELOW
Dig deeper.
Yokalize offers your local business a whole lot more.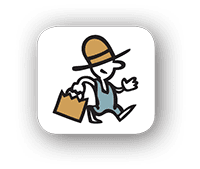 Yo! Let's get started! Schedule a 30-minute Consultation Now!!

The Benefits of the Yokalize Eco-system
More frequent visits from existing customers
Higher average sale per visit
Effective, new customer acquisitions
Higher 2nd and 3rd visits from new customers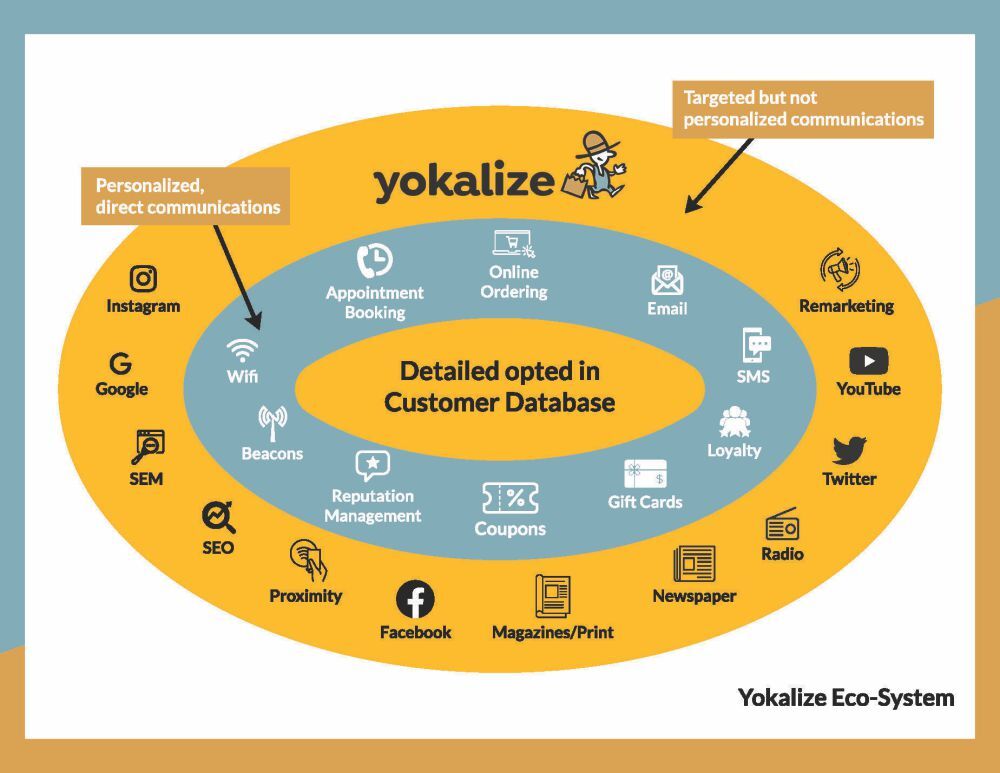 How Does the Yokalize Eco-system work?
Collecting customer data so you can market effectively to those customers. They are the heart of the Yokalize Eco-System. To be effective in today's business climate, one approach won't get it done for you. A layered approach with multiple strategies is required. Yokalize offers this layered approach…
Customer Data Collection (multiple opt-in)
In-store FREE wifi for your customers
Yo Points Loyalty
eCoupons
eGift Cards
Yokalize App Download
Customer Acquisition
Proximity marketing (Beacons & Geo-fencing)
Yo Points loyalty
eCoupns & eGift Cards
Remarketing on Google & Facebook
Increased 2nd & 3rd Visits
SMS Text Marketing
Email Marketing
Yo Points loyalty
eCoupns & eGift Cards
Remarketing on Google & Facebook
Increase Customer Frequency
SMS Text Marketing
Email Marketing
Proximity Marketing
Download this Free Article Now!
The 12 Reasons a Loyalty Program is the Best Solution for Locally Owned Businesses to Emerge from the Pandemic Stronger than Ever!
If your business is struggling during the pandemic, you need to read this! "The 12 Reasons a Loyalty Program is the Best Solution for Locally Owned Businesses to Emerge from the Pandemic Stronger than Ever!" is the answer to not only regain the lost momentum lost during the pandemic but also transfer into a strong position of growth.
Very Important! Download this Document Now!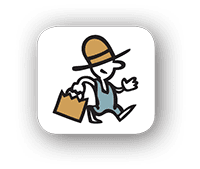 Pricing
Yokalize is a subscription based program that allows you to keep your revenue from the business we generate from coupon sales and loyalty redemptions. This is important to understand as most of you are already operating with razor thin margins and cannot realistically afford one more service that wants to keep 30% of the sale.
For access to the Yokalize platform, there is a low monthly subscription rate of $229.
There is a lot of customer retention, customer acquisition tools built into Yokalize as well as methods to create brand loyalists for your business for this low price. If you would like more information reach out to us below.
Why shouldn't I just create my own loyalty program?
This is a key premise in which Yokalize was created. The challenge with any loyalty program is that you are competing with every other business for space in the consumers wallet. How many times have you been asked to join a loyalty program and you declined? On average consumers sign up for 16 loyalty programs. Of those 16, they actively participate in 6 loyalty programs. So how do you make the short list when you are competing with Starbucks, Costco, Petro Canada, Air Miles, and the hundreds of other locally owned businesses trying to get mind share of the consumer.
A meaningful loyalty program is the first step in executing an effective loyalty program. The top companies that have successful loyalty programs have teams of dedicated marketing staff focusing on their loyalty program day in and day out. How can you compete with that!?
If you are not Starbucks or Costco, and have the brand and budget behind you that they have, I would suggest you consider Yokalize as your best marketing option. After all you are looking for results aren't you?
How do I know if Yokalize will work for my business?
Yokalize will work with any business. B2C, B2B, small price points with frequent transactions or large price points where consumers go years without coming to see you, Yokalize has a strategy and solution for you. Sign up for a no-charge 15 minute strategy session to find out how Yokalize can help your business today.
How does Yokalize help me grow my business?
There are many ways Yokalize will help you grow your business. Firstly, taking care of your current customers and incentivizing them to visit more often and spend more during each visit is very important. Secondly, we allow you access to an entire community of consumers that want to support local businesses. These are consumers that already doing business with other local businesses, why not you? Thirdly, we create a personalized experience for your consumers to engage them and keep them engaged for the long-term. There is a lot more it but that will give a brief overview of how valuable Yokalize can be in growing your business.
How long does it take to get started with Yokalize?
It is easy to get started with Yokalize. You can be set up the same day with your site within the app, implementation strategy and execution including employee training. Then in the weeks and months to come, we will make sure you are getting the most of Yokalize for you, your employees and your customers.
Will the program work with my POS system?
There are two ways to use Yokalize. The most common for small businesses is to use the merchant app and the No-Touch QR code scanning. If you have 5 or more locations, you may wish to integrate Yokalize into your POS system using a simple API process.
We can also integrate your coupons and offers onto your website using a simple API.
Can Yokalize work with my eCommerce website?
There are a few ways we can work within your current eCommerce web site. Firstly, we can integrate coupons, gift cards and loyalty workflows into your website using a simple API workflow. Secondly, we can add SMS communications to your website to advise customers of when a product comes back into inventory that they want to purchase or send them SMS messages as their order goes through the shipping and delivery process. Yokalize is more than just a pretty app.
During a pandemic, how can Yokalize help my business?
During any times of economic challenges, a lot of businesses will cut their marketing spend. It is proven time and again that doing this creates a hole that makes it difficult to climb out of once the economic challenges subside. It is important to the time during the pandemic to change like the market has. How will you improve and position yourself to be stronger after the pandemic? Yokalize is here to help you become stronger both during the pandemic and after the world returns to normal. Reach out to us for a no-charge 15 minute strategy session to discuss these specifics and how they affect your business.